No time like the Presents…
(The miracle of technology allows me to launch this article while being away on vacation. However, it also means there will not be Presents next Monday.)
Keith and I were talking about the next session(s) of his Patreon game. I'm going to spoil something… it has something to do with Eberron… mark my words. In all seriousness, if you're not a Patron, this might be the time to join up and learn a bit about Thelanis, Keith-style. I have had the pleasure of playing in a convention game called Penance that Keith ran in the past–we even considered publishing the adventure on Dungeon Masters Guild at one point–and it is definitely fun just getting that deep lore and keen insight.
Oh no! Another image fail? It is like I'm doing this on purpose! What you don't see is the completed wraparound cover image for Project: Chronicle by Thomas Bourdon. Wraparound you say? Yes, we are planning for Chronicle to go print-on-demand. We've heard a lot of people say they prefer the option to have the physical book for shelves. Because I constantly jinx myself by putting a page count, I don't have an estimate on the length of Chronicle, but it will definitely be more than 100 pages. (I initially estimated that Exploring Eberron would be 160 pages and we hit 247–we call that the Keith modal factor.)
Schedules are definitely looking up on a personal level for us and there a lot of new information we've received in the past few weeks that we need to integrate into our plans. We are never short of work or ideas, but implementation and details change on a weekly basis. In one sense, the fact we are a small group means we have the ability to pivot and change… but it also means any alteration to schedule makes a bigger impact. We do not want to commit to a launch window for Chronicle or FRAG (Frontiers of Eberron: Threshold) as to make room for the above mentioned shake-ups and also to not disappoint the fans with a missed deadline.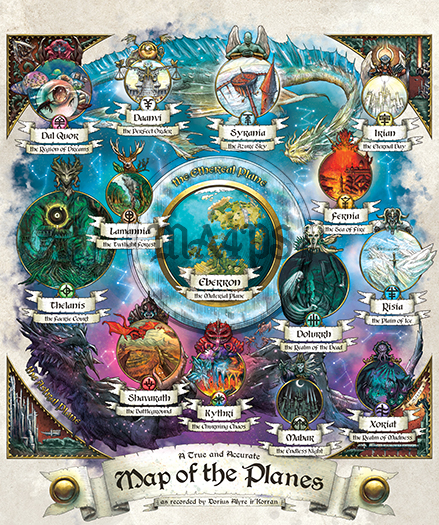 During the process of completing Exploring Eberron, we were very fortunate to get connected with Macro MA4PS Bernardini! He came in very late in the art process (i.e. AFTER all commissions were done and we needed more art) and provided a stellar map of the planes and key art for Chapter 5. You can see more of Marco's work in Threshold!
That's it for now!
Wayne